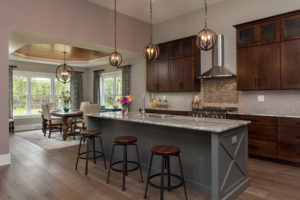 Christie Kirsch Home Interiors offers our Interior Design services right in your home. During an In Home Consultation we will access your  project, give you a budget and put a plan together to create a room of your dreams.
In this section you will see the abundance of interior options we are knowlegeable in. Whether you are involved in a new construction project or simply redecorating a single room please contact us to discover the many ways we could add input to make your project that much more successful.
Our services also include shopping with our clients to find the right furniture and accessories for you project. We have relationships with furniture suppliers, kitchen cabinet and plumbing suppliers.
If you would like to find out how Christie Kirsch Home Interiors could help bring together the look you desire for your home please visit our contact page to get the process started.
Recommended suppliers may include retailers of furniture, paint and wallpaper, floor coverings, lighting, plumbing fixtures, kitchen cabinets, window coverings and custom bedding.
Home Furnishings
Christie Kirsch Home Interiors has relationships with many local home furnishings and furniture stores. By working with an Interior Designer we can research furniture styles and fabrics in advance of you choosing the right piece.
Our services include floor planning your room to be sure you are not making costly mistakes in choosing a piece of furniture that is too small or too large.
We have worked with many homeowners in the selection process for home furnishings. We charge a flat fee per hour and will schedule as many visits necessary to the furniture stores of your choice. To set up an appointment for assistance in selecting just the right furniture for your home, contact us at Christie Kirsch Home Interiors to to be sure your selections match the rest of your decor and will actually fit into the space you were thinking of.
Our design team keeps up with the latest color trends and styles to be certain the purchases you make will not only work with the latest fashion trends but will remain stylish as trends change.
Paint and Wallcoverings
Our firm has access to all the wallpaper lines available to offer you a variety of styles from traditional to contemporary. We can help you research children's rooms and kitchen and bath wallcoverings as well. We work closely with Sherwin Williams which carries a full line of paints and wallcoverings and features over 100,000 wallpaper and border patterns.
When searching for just the right wallpaper, they feature the top industry brands such as Waverly, Seabrook, York and Thibaut to name a few.
Decorative Painting is another beautiful option for any room in your home.  Christie Kirsch Home Interiors has worked with several extremely talented decorative painters such as the one that created the look below. If you are interested in getting a price for some decorative painting  please contact us for a quote request.
Floor Coverings
Floor coverings are the element that ties your rooms together.  Whether you're searching for a berber, saxony , texture, ceramic tile, hardwood or an area rug, we can assist you in that search. Pro Source Wholesale Floor Coverings represents the majority of all to top name brand floor covering available today.
Christie Kirsch Home Interiors as a professional in the design trade has a membership to the Pro Source showrooms. These showrooms have thousands of choices for all your flooring needs. Additionally, we can also provide the service of finding you a certified professional flooring installer to handle all aspects of the installation process.
If you are interested in visiting  their showroom with one of our designers, please contact us to schedule an appointment to get your flooring project started.
Lighting Design
Lighting can be the jewelry of your home. From traditional styles to contemporary …we can help you choose the perfect lighting fixtures for your home. We have extensive experience in helping clients choosing the proper lighting for their home. With the extensive work we have done with builders as the selection coordinator for their new home clients we have helped make decisions on the smallest closet light to show piece foyer chandeliers.
Making the right decisions on not only the fixtures themselves but the proper placement on the ceiling or wall is imperative in the overall design and furniture set up of a room. We have the experience to work from the very beginning of a project to assist in specifying blueprint locations of fixtures to the selection of the lighting product that would best fit the design needs of a particular room.
Our relationships with several lighting and electrical suppliers will enable us to point you towards the product lines that will fit best within the scope of your individual project. If you are interested in having us work with you on any projects no matter how large or small please contact us with your needs.
Plumbing Fixtures
By choosing the right plumbing fixtures, this is also an element of interior design that needs someone with expertise to put together the look for your new or remodeled bathroom. There are choices in Plumbing fixtures, wall coverings. lighting, and flooring that may need the help of an experienced designer.
Kitchen Designs
The Kitchen is the heart of the home and there are multiple decisions to make in this process. From choosing the flooring, choosing cabinetry style and color, countertops, sinks, faucets, backsplash and lighting…………….the task can be overwhelming.
Window Coverings
Window Coverings can be anything from a cellular shade to a beautiful swag, cornice or drape to dress your window. Our staff can measure your window, choose a fabric, create a design and install it with the perfect rod all in one service to you.
Custom Bedding
Custom Bedding can be created for you with any fabric, trim or design. Upholstered headboards can also be done for any bedroom whether it is twin size or king size.