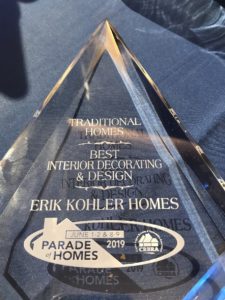 Builder Services:
Sue Kirsch works with local realtors and builders assisting with the interior design needs in a number of ways. Over the past several years Sue has designed the interiors of several of homes entered in the Capital Region Builders & Remodelers Association annual Parade of Homes. In 2019, Sue was responsible the interior design of the The Vistas West by Erik Kohler Homes located at Vista Dr. in Clifton Park.
Sue won for Best Interior Design for Erik Kohler's new model home which was entered into the 2019 Parade of Homes.
Builder Model Homes:
Sue Kirsch has extensive experience in setting up model homes and has completed several models for area builders over the span of her career. Christie Kirsch Home Interiors can offer you the streamlined process of putting together a model home. From choosing the right color palette, to finding furniture, accessories, tile and flooring selections, as well as designing your kitchen, we can put the entire package together.
Our interior design firm offers realtors and builders the following services:
Researching and setting up "included features"  for their new home selections
Meeting with vendors to choose suitable flooring, lighting, countertops, kitchen cabinetry and plumbing fixtures just to name a few.
Setting up design center for showing  new prospective customers for the builder.
Offering each builder a home selection coordinator to meet with customers as they purchase.
This process can be utilized for a small builder or a new subdivision underway for a larger builder.
Also offered with this service would be the opportunity, if budget allows, to create a model home from blueprint stage to finished, decorated finished space.
The Vistas West / Vista Drive, Clifton Park
Pipino Builders Award Winning Model Home (2017)
.
Home Staging
Christie Kirsch Home Interiors works in conjunction with builders and real estate agents to create a staged home to help sell a listing that just isn't up to its potential. We can take a vacant space and transform it to have a more "lived in" feel. It can give your potential buyer a perspective as to how the home can look furnished and decorated. Most vacant homes do not sell because the buyer needs to see how they can envision themselves living there.
As you can see in the photo on this page, the vacant space makes it very difficult to imagine how your own furnishings might look in this setting. In the photo showing the room after the staging makeover it much easier for a potential buyer to envision the room being their own home.
We have worked with builders that own their own staging furniture of which we set up and then finish the room settings  with  accessories to give the home more of a lived in feeling. Additionally we have worked with builders that we have helped make arrangements with furniture suppliers for the staging process. Which ever the case most builders agree that the fully furnished staged home would sell much faster than one that is not staged.