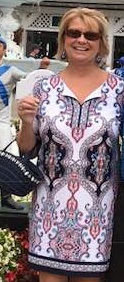 Sue Kirsch holds a degree in interior design and 25 years of decorating experience in the Capital District. Her expertise in new home construction and the furniture industry  brings a wealth of knowledge and experience.
As a certified interior designer, she can assist you in space planning, furniture placement and choosing the perfect designer look for your space. Sue has the qualification of A.S.I.D. which gives her membership in the American Society of Interior Designers.
Sue has an abundance of experience with both builders and their clients as well as working directly with existing homeowners to assist them in their particular design projects. She has gained additional expertise and studies the new and changing trends by attending many National Home Builder Shows, Kitchen and Bath Expo's as well as various Industry factory tour visits such as the Kohler facilities in Kohler, Wisconsin.
Awards Association and Education
Sue Kirsch, owner and Interior Designer has been an interior designer for over 20 years. Sue graduated with a degree in Fine Arts/Interior Design in 1995 from the Sage Colleges.
Sue has been an award winning interior designer in the Albany area Parade of Homes and has decorated and furnished numerous model homes in our area. She is a member of the American Society of Interior Designers and holds the designation of Allied Member, ASID.
Design Experience
Residential Design
Sue Kirsch, owner and Interior Designer has varied experience in the design field. Sue has been most proud of her work with local builders doing design for model homes.  In addition, for over 10  years Sue has worked in the flooring industry and has most recently designed several  kitchen and bath renovations for her clients.  She was also the design center manager and Interior Designer for Rosewood Home Builders in Latham, New York.
Sue's portfolio includes many beautiful rooms showing every aspect of the value of an Interior Designer. The experience she brings to the table will help any client realize that having someone to help implement their style and true vision of their space is worth it.
Have you watched HGTV and wanted that designer look? Hiring an Interior Designer gives you a plan and keeps you from making costly mistakes. We can create a home that expresses the look you've dreamed of.
Commercial Design
Updating your office or business environment is another aspect of our design firm. Sue has been the lead designer for a group of funeral homes locally. One of our largest projects was Bowen & Parker Bros. as well as Cummings Funeral Home.
This was a total remodel project from beginning to end. This funeral home was outdated and needed some serious new style. Our firm implemented new beautiful carpet throughout, custom paint colors, window treatments and a complete new look of mahogany furniture from Stickley. This funeral home has beautiful lighting, raised panel wainscoting with damask wallpaper in the entryway which makes this funeral home as a true showpiece.